Accidentally on Purpose: Brunel Digital Degree Show Winners
By Francesco Ricci 30/05/2018
The final year projects of Brunel's Digital Design and Visual Effects students were paraded in the vibrant Accidentally on Purpose showcase event, with the very best work bagging coveted awards and industry recognition!
Graduating students from Brunel University London's BSc Digital Design, BSc Visual Effects & Motion Graphics and BA Games Design courses showed off their work on 30 May to visitors from across the university, industry and the community, talking through their inspiration, challenges, successes and future aspirations.
Projects were also presented by Masters students on the MSc Digital Design & Branding, MSc Advanced Multimedia Design & 3D Technologies courses, as well as by a selection of first- and second-year undergraduates.
"We always strive to improve on what we achieve creatively and promotionally year on year," said Paul Butler, Design Director and Lecturer in Business for the Creative Industries, "and our degree show this summer, we can honestly say with pride and confidence, was simply exceptional.
"The many highly prestigious and supportive industry guests and judges time and time again echoed these sentiments throughout the evening."
Visual effects (VFX) and creative content studio The Mill enthused that the show was a fantastic event, with such talented students. Also in attendance were creative recruitment specialists Profiles Creative, who remarked that their whole team was "stunned by some of the quality of work on show; we honestly felt that some of the presentations would be comparable with experienced talent we see in the market."
The projects also featured in the accompanying book, designed and produced by several of the students, which explained that 'Accidentally on Purpose' describes the journey to inspiration. The staff and students who created the book and put on the exhibition were presented with an award by Jack Pizzey of Sterling Printers.
Thanks to the very generous award sponsors: W12 Studios, Fjord, FitSprint, Peter Anderson Studio, CVP, The Dean of Students at Brunel, Co-Innovate, Sterling Printers and The Foundry.
The winners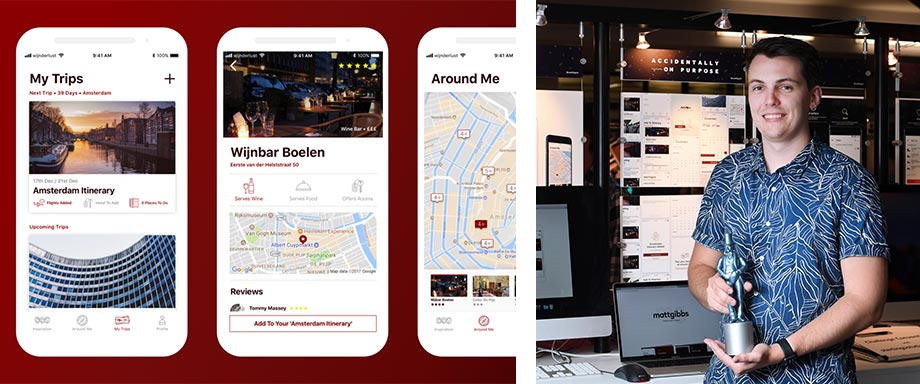 Best UI/UX Digital Design: Matthew Gibbs for Wijnderlust
(Judge: Alex Gibson, W12)
Knowing where in the world to visit is hard. Knowing where to find the best wine once you get there is even harder.
Wijnderlust aims to solve these issues. Let it know where you're going and when, and it will allow you to plan the best wine-based itinerary that you possibly can.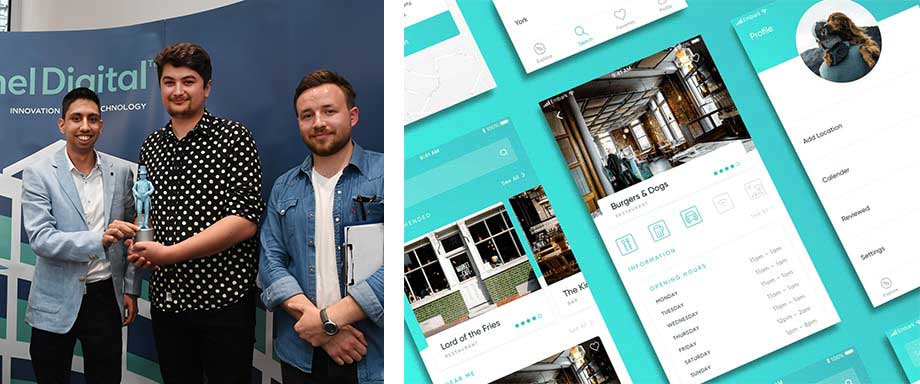 Best Digital Functionality: Liam Dean for Embark
(Judges: Alex Gibson, W12; Tushar Merwanji, Fjord)
A progressive web application, Embark allows users to find locations nearby that are dog-friendly.
As the market for this artefact is limited, the development in HTML as a progressive web app allows for the experience to function on any device.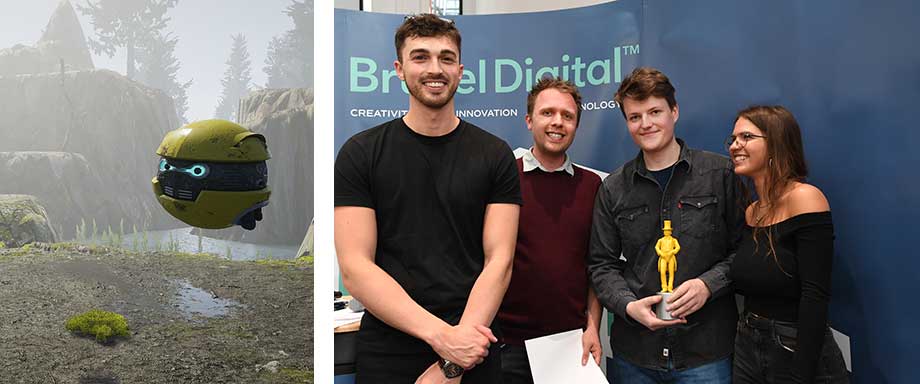 Best Games Design & Development: Tom Hopewell, Emily Bailey, Harry Greenaway and Avraam Charalampos for Project Grove
(Judge: Jeff Tanton, Creative Director, MediaTonic)
The team worked closely together over 5 months to develop a game about exploring an exciting world with a charming companion robot. The game lets you make potions and travel about the world with new powers, uncovering the mysteries that surround the alchemist's house.
The team has been accepted for a government incubator project called Transfuzer, where they will continue to work on the game at Brunel for 10 weeks more before the next round of funding to set up their studio – Antler Studios.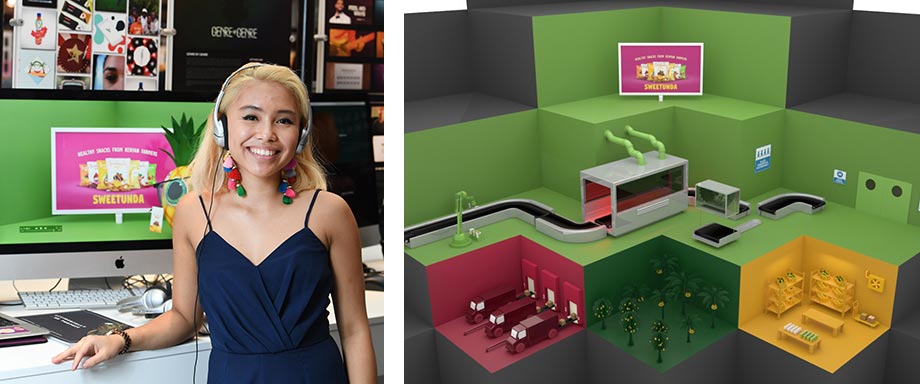 Best VFX & 3D: Joann Burton for Amana's First Day at Work
(Judges: Stephen Cockett and Paul Butler, Brunel University London)
I am open-minded, welcome the unorthodox, and believe that the more unconventional ideas often inspire me the most.
My final-year project is a short 3D animation film about a pineapple character, Amana, experiencing its first day at work. My aim is to give the viewer an insight into how the dried-fruit brand Sweetunda operates their production line, displayed in a playful and humorous manner.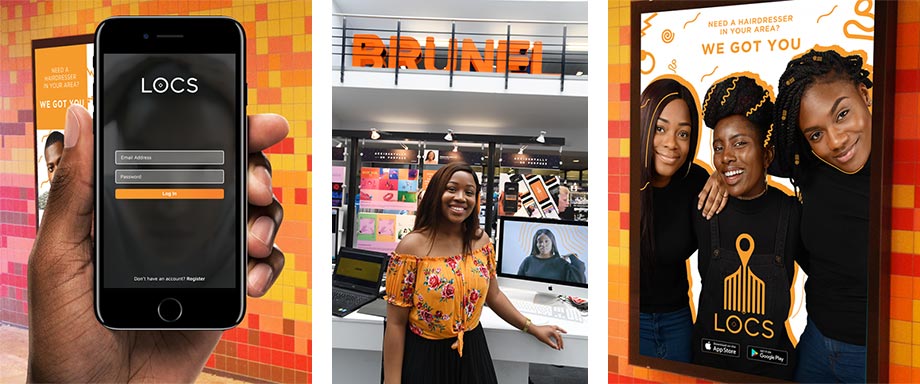 Best Pitch & Presentation and Best Major Project (two awards): Temiloluwa Adedoyin for Locs
(Judges: Emma Kingsnorth and Maria Ferrer Lori, FitsPrint; student choice for Best Major Project)
I have created an app that helps black women and men with afro hair find hairstylists, barbers and stores in their area. I took my project further by creating a 360° marketing campaign which included posters and a 10-second advert.
Just over 3 years ago the BSc Digital Design course sparked my interest because of the variety of creative projects I would be able to work on. I have developed a more in-depth appreciation for design and my passion has grown.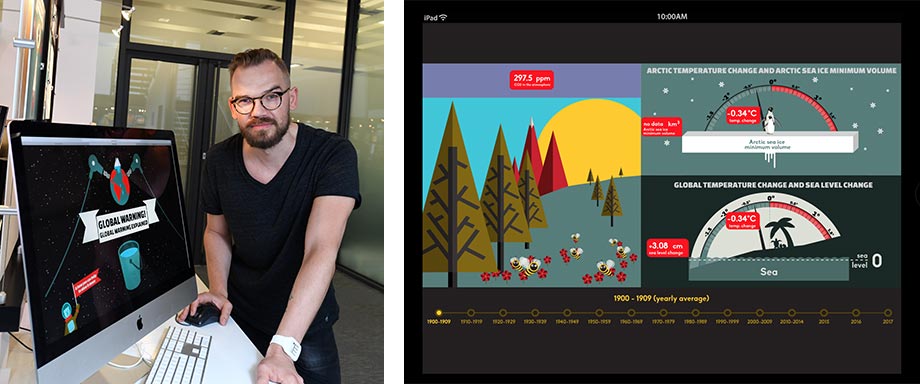 Best Graphic Design & Motion Graphics: Bartosz Antkowiak for Global Warning! – Global Warming Explained
(Judge: Peter Anderson Studios)
I used eye-catching design, animated data visualisation, interactive data graphics, narrative structure and a call to action to increase viewer's engagement, and thus make the message more powerful.
As a result, the infographic provides a valuable source of easily digestible visual information that can be understood even by schoolchildren.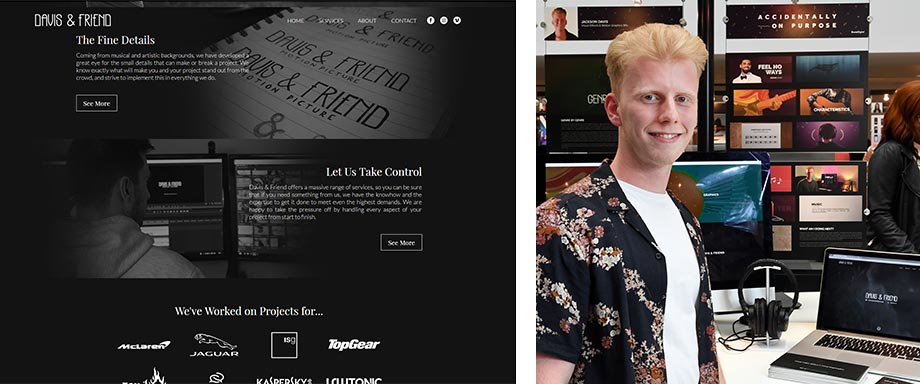 Best Portfolio Content & Design: Jackson Davis
(Judge: David Pool, Love Europe)
My final-year project, Genre by Genre, combined my love and interest for music with my passion for motion graphics and video.
I can honestly say that the person that's walking out of Brunel is exactly who I hoped I would be when I first stepped through the doors.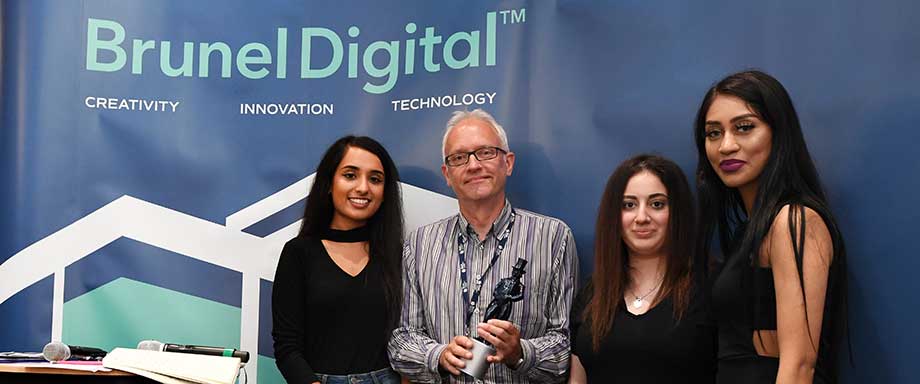 Best Creative Business Plan: Nicole Taliotis, Radhika Bhayani and Samirah Ali for Foodie
(Judges: Andrew Cripps and Jeremy Davies, Co-Innovate, Brunel University London)
Foodie is a digital platform for a range of restaurants within your local area. Using features such as scanning a QR code and Apple Pay, this experience will make purchasing a meal more engaging, fun and less tedious.
The user can order food and drinks in their own time as there is no rush, aiming to make this a stress-free experience.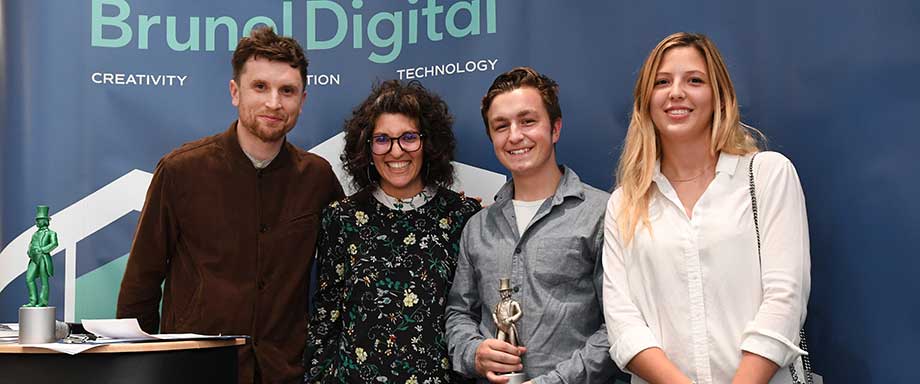 Best Creative Promise, first-year student: Thomas Merry
(Judges: Zehra Berry, Sky TV; Grant Berry, The Mill; Camilla Giulietti, Amazon UK)
An exceptionally committed and talented student with strong illustrative, creative and emerging technical skills, Tom is already developing a professional focus on his future career – recognised not only by his tutors, but also across industry experts from The Mill, Sky TV and Amazon UK.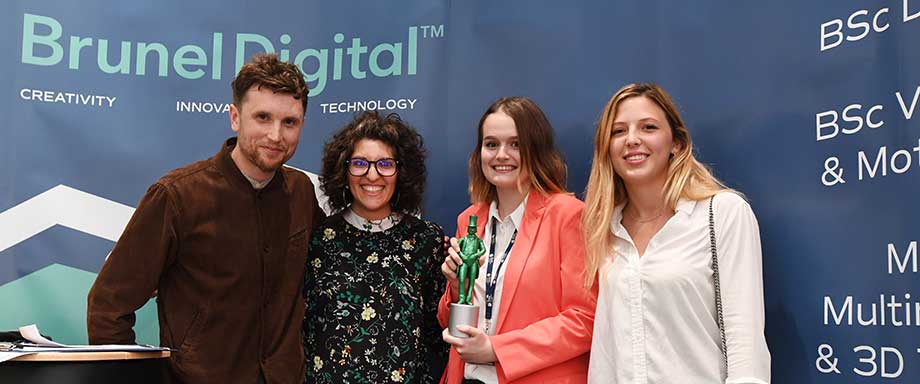 Best Creative Promise, second-year student: Rebecca Ward
(Judges: Zehra Berry, Sky TV; Grant Berry, The Mill; Camilla Giulietti, Amazon UK)
My favourite areas of the industry are motion graphics, 3D design and film. I also enjoy photography and illustration.
I really love creating different types of animation, whether it be 2D animation in After Effects or 3D animation in Maya or Cinema 4D, and applying these to different projects.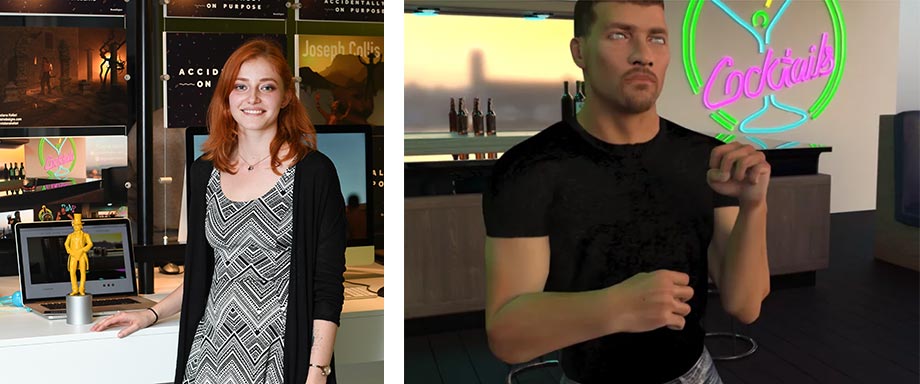 Best MSc Creative Work: Gosia Bem for Jukebox Breakdown – Motion Capture
(Judge: Liam Grant, The Foundry)
My project is a short character animation, taking place in a full computer-generated environment.
I always focus on producing visually aesthetic, entertaining pieces that capture the good and beautiful things in the world.